General Information
Superhero Rp
Name:
Maya Kaeris
AKA:
Sometimes just May
Gender:
Female
Age:
16
Place of Birth:
Ireland
Personality:
Usually, Maya ian't very emotional, in fact, she isn't very emotional unless it concerns her or her friends. It is very, very hard to surprise her, so surprise birthday parties or practical jokes arn't worth doing to her. But one thing she is extremely passionate about is her ability of observation. She loves to memorise things she sees (photographic memory), and will try to see everything in every detail and angle, as her power depends on it. Unfortunately, it is hard to trust her because of her ability, but she is very caring, and will subtly try to help her friends wherever she can. She is not very good at mysteries, as they make her head spin, but enjoys Science (Only things that are certain though, so no investigational things) and art. She can see a person's face only once and be able to draw it out in perfect detail. Maya doesn't talk a lot, but will voice her opinion if she thinks she needs to. If faced with an enemy, she will try not to get too close to them, prefering to do her job out of sight (it makes things easier).
History:
Maya was born in Ireland, but she never knew her parents as her mother died giving birth to her and her father left before she was even born. Her kind Aunt took her in, and she had lived with her her whole life. She had always been a quiet child, more observer, so she didn't make heaps of friends, but she didn't make many enemies either, as there wasn't really anything to dislike about her. She never liked puzzles or investigation work, so never tried, she prefered to see what was right in front of her and not look 'outside the box' so never really got anyones hidden feelings. She had been looking through a telescope outside when the meteor shower came, and, not to miss out on such a sight, watched it all througout the night and day. After awhile, she noticed how people sometimes reacted around her... After realising she had special powers and telling her Aunt, they agreed to let her go to the new school.
Physical Information
Visual:
Well since I couldn't find a pic, me and Aurora drew one, , though I drew two. Sorry they are so big...
Her hair kinda looked long, so I drew a side view...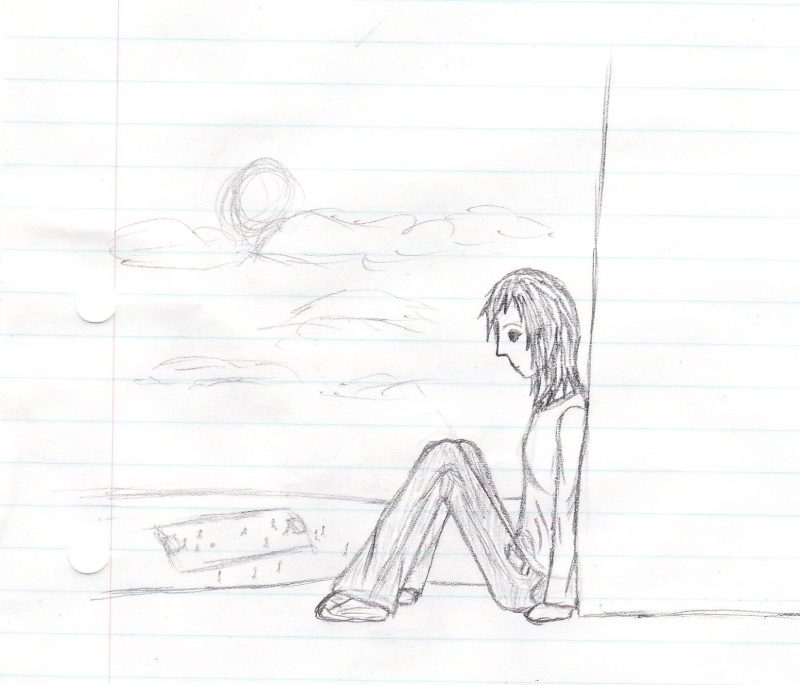 There's something not right about it... I think it's the nose... too high??
Physical Appearance:
Maya is quite pretty, and has black hair, reasonably straight but curves in towards her neck and stops when it touches her shoulders. She has sharp, light hazel eyes, and pale skin. She it a little small for her age, and quite slim. She always wears a bracelet on her right wrist, made of blue and purple string woven together. She also wears a small red clip holding her fringe back on the right.
Clothing and Armor:
Usually wears a long sleeved plain grey shirt and casual jeans. Overtop, she wears a thin, long black jacket that reaches nearly to her knees. Usually unbuttoned.
Weapons
: N/A
Powers
: Her ability is to create illusions inside people's minds. Right now, she is only able to do sight and sound, but soon hopes to master all the senses, as well as reason.
Bonus Section:
Once you are under her spell, you can't be sure what's real anymore...