lol just wanted to tell you all of the awesomeness of Latale just. cuz. i. can~ <-addicted.
its cool cuz....
.....
.......
..........
I SAID SO >.>
lol o_o aaanyways~ here's one hell ova awesome screenshot that has me when i was still only lvl 57 and hadnt bought meh new fashionies with the 10mil i saved up >.> + Shiro's first promoted character who was like. lvl 87 or so by this time o_o <- the gap between the levels of our characters used to somehow always stay at 30 =_= forgive me for my crapiness at training. ne hows, de pic is below!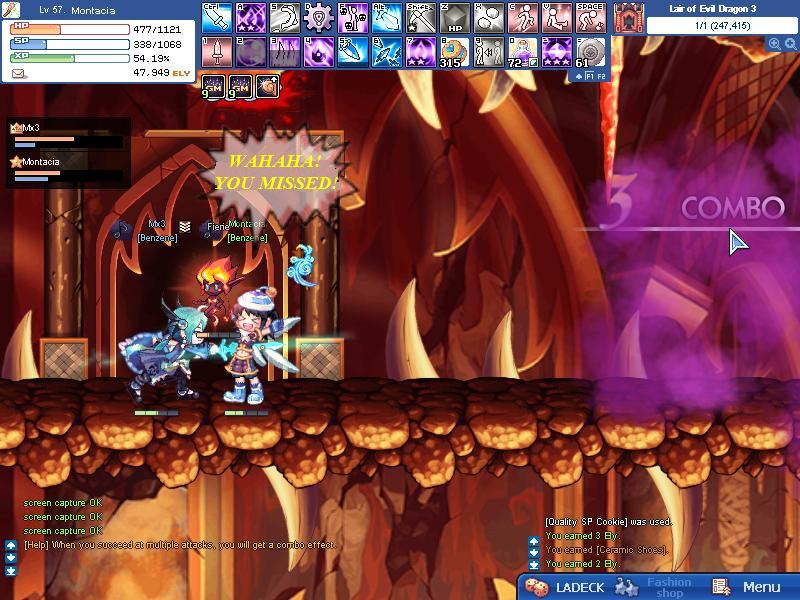 and ya know? if you guys join up and play LT with us, life is good when you need to kill boss monsters : D all you have to do is sit back, relax and watch as the invincible Mx3/Akawa <- Shiro's promoted characters currently both at lvl 90something, defeat the boss for you : ) demonstration below.
Lol, occaisionally, the boss has a habit of ignoring you, and at times like these, you can name call, sit and do nothing, or.... have fun in general : ) more demonstration below.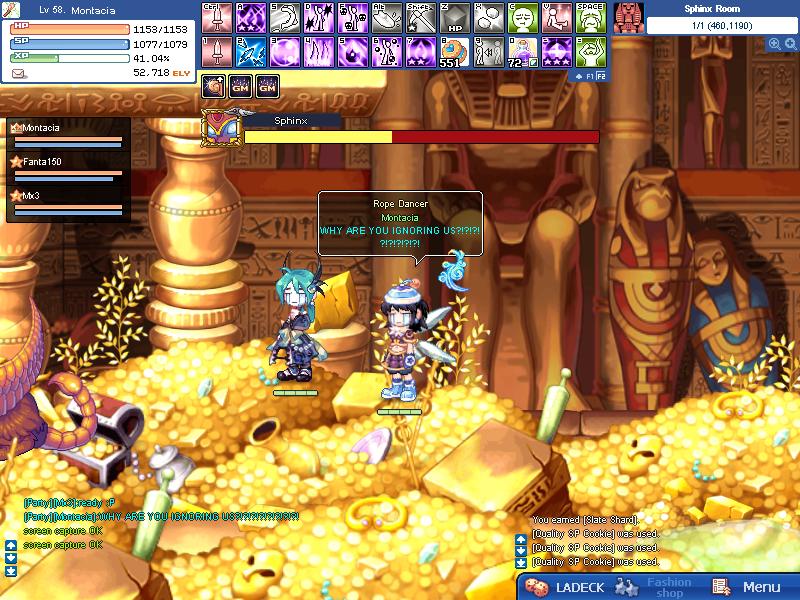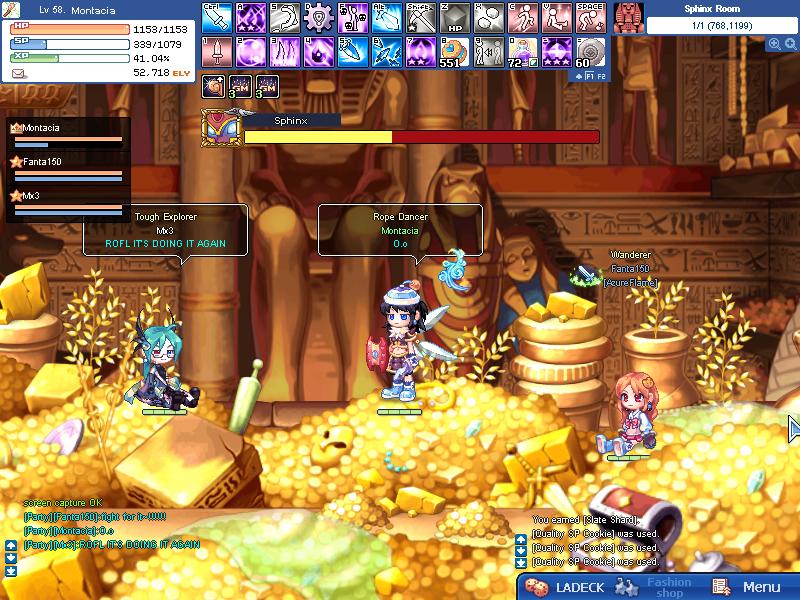 next one may be slightly mean to Shiro's little sister but. I'm sure she got her revenge a Li'l while after *evil grins*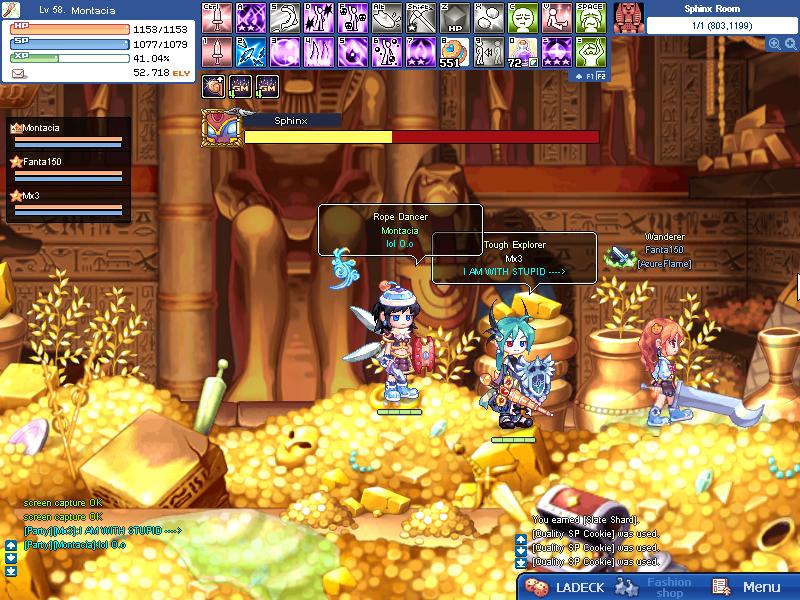 So, Latale has soooo many different maps, that training never gets boring, especially with friends : D
Your very first time in Latale starts of in the training grounds which i unfortunately dont have pictures of ;'(
but then you move on to a town named Belos : ) This is the place where everyone starts off x3 wearing level 1 armor, and sometimes when you realise that you dont actually need the armor because you're a knight, wearing whatever you happen to get from the monsters... running around doing quests with friends will easily get you to level 10!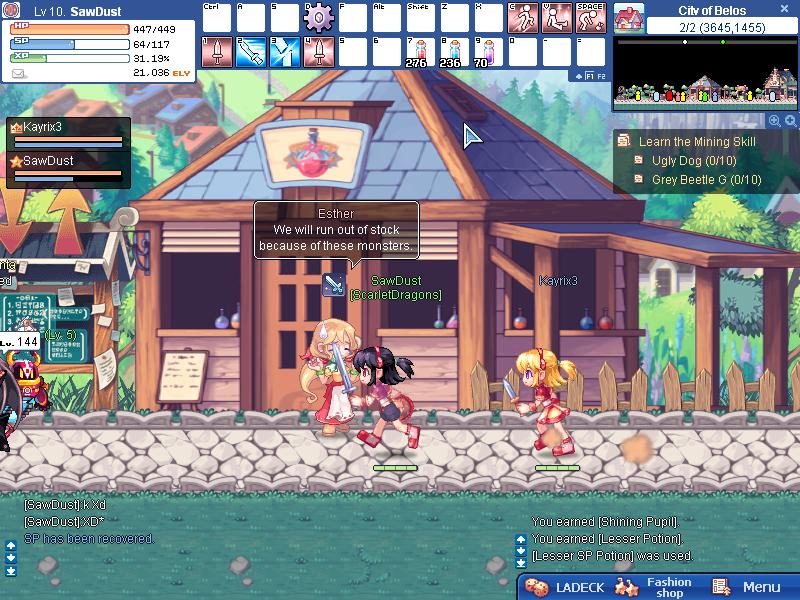 the first monster that you meet is abosolutely adorable x3
Be careful though as they are hard to kill when you're only level 1 too o_o
At this place you can also try digging O.o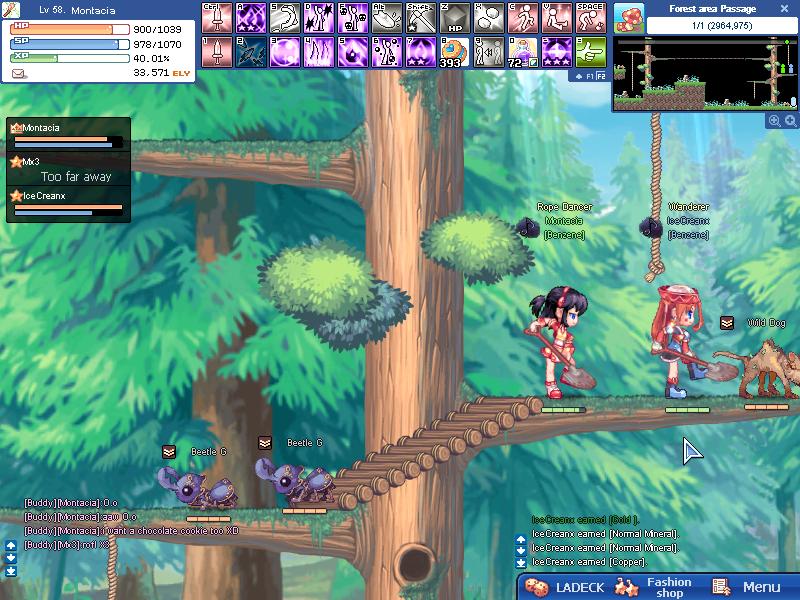 when you get a fashion item, you can sell it for at least 1 mil x3 the best ones sell for 20 mil!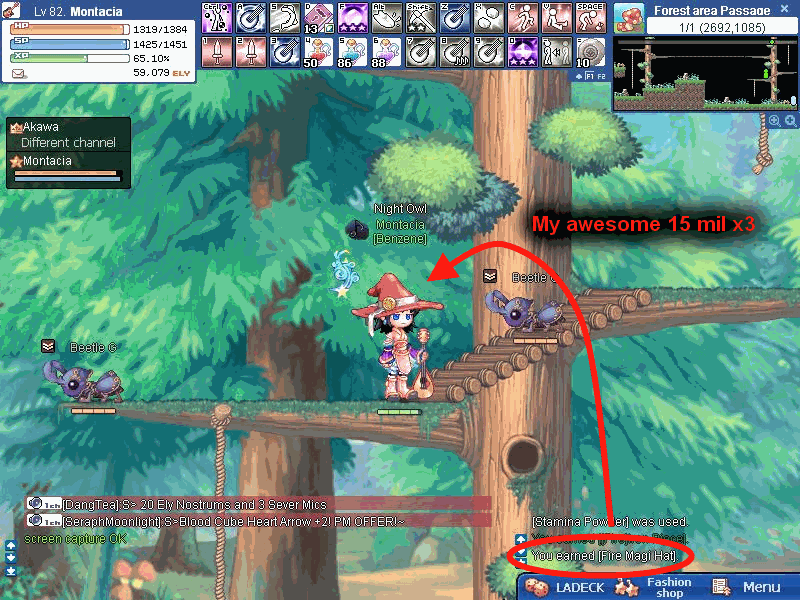 You dont need to sell your fashionie if you dont need money o_o
You can wear it to look cool like i do x3
Or lol you can wear it to look as weird as you want x3
First off : Mx3 ( Shiro's first promoted character ) wearing NERD glasses~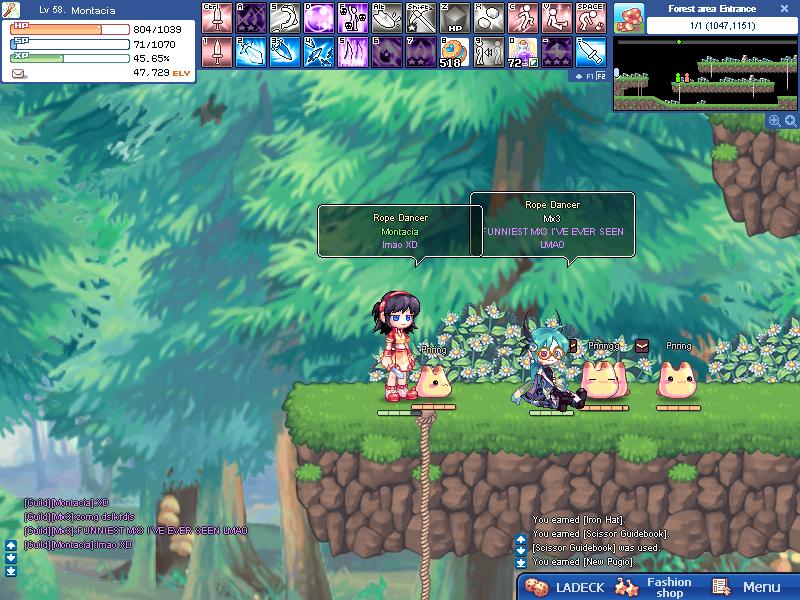 Next : - hm.. i kinda wasn't supposed to take a screen shot of this but hey~ the occaisional mischief wont hurt~ ;) - Akawa ( Shiro's second promoted character ) wearing AN ORANGE RIBBON~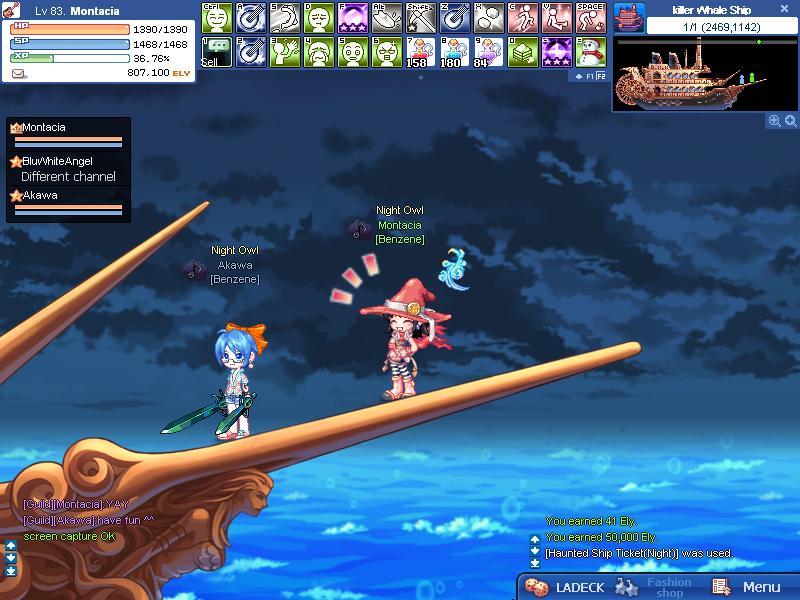 lol just note there that at this point in time when Akawa had already reached lvl 84, Li'l Mont here just promoted and reached lvl 83. by this time if including both characters, I was behind by 90 or so levels.
Anyways, also note that at this point in time, I've already spent my 10 mil to buy a point shop coupon and am now looking much better than before~ just wait a bit more and I'll find a pic with the new eyes that I was still waiting for back then x3
Latale likes it's prirings and it makes lots of different versions of it for you to remember how it was when you first tried to kill it. The most funniest one out of them all would probably be this one :
Note : My fashion items here were given to me by a VERY kind person before I finally saved up 10 mil to buy new clothes a few months later.
Some cool things about Latale are probably it's events x3
Here's a picture from the cannon event where you can get free exp if you sit by a cannon : )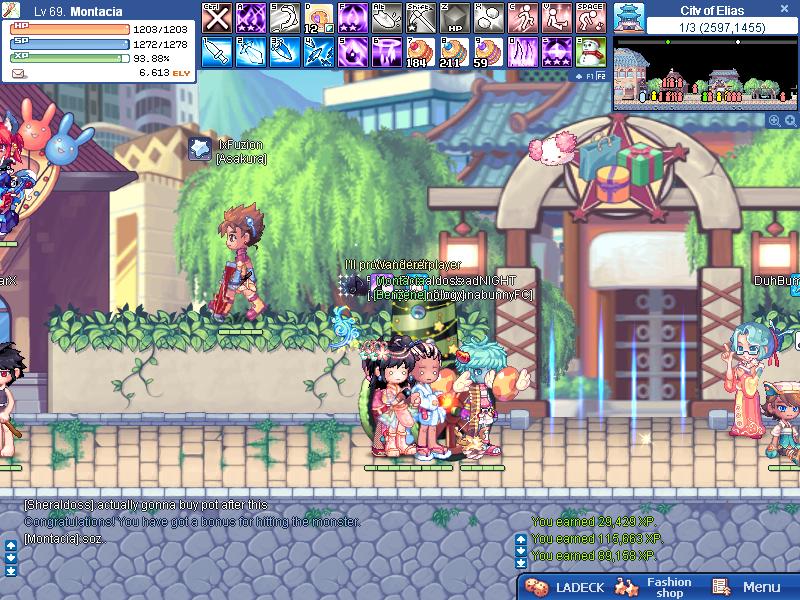 When there are events, you can sit around and socialize :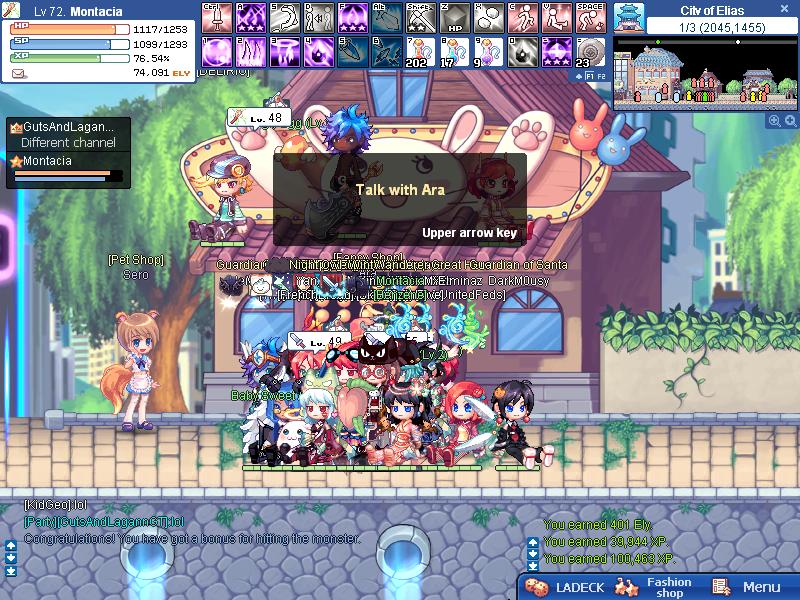 Meet new friends :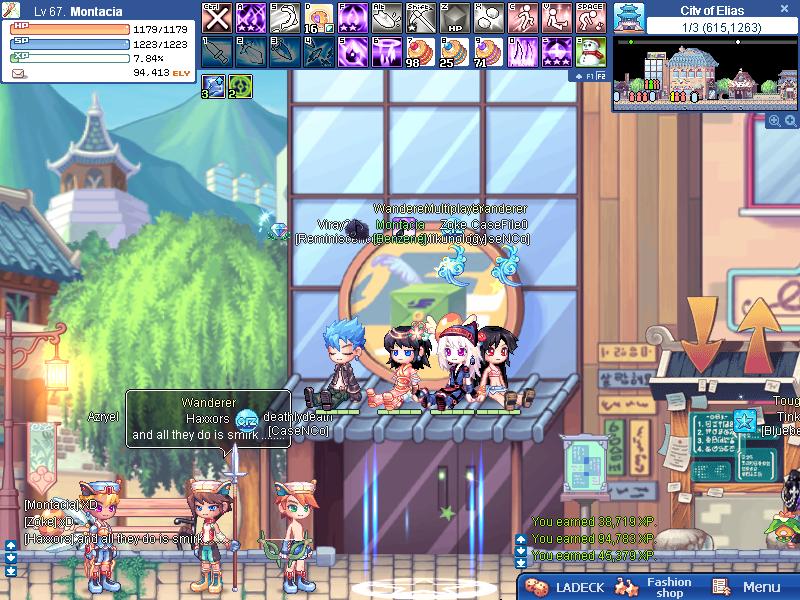 Or even have snowball fights x3 :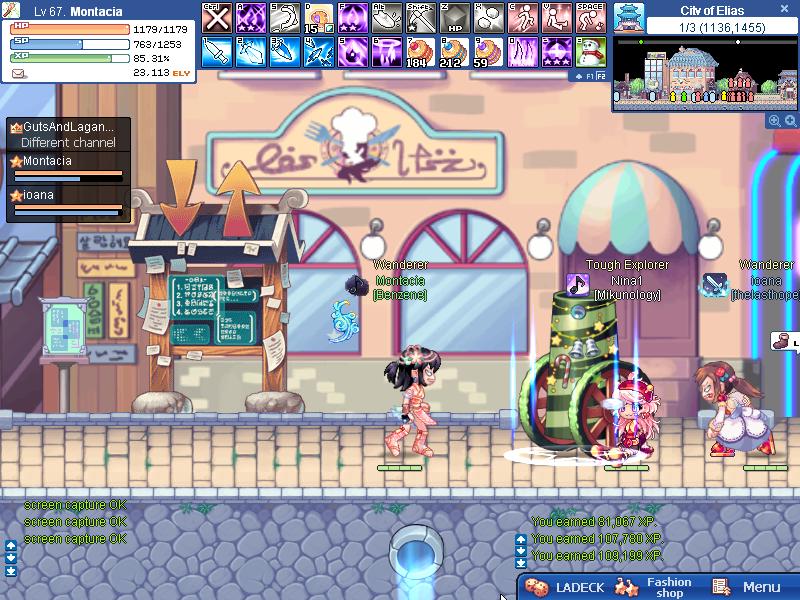 I went all the way to level 80 from level 63 in about a week thanks to the cannon event x3 it probably would've taken me a year without it O.o
The new updates in Latale also keep you away from feeling bored : )
Lets see, there's the update on the time traveler episode o_o
New places appeared x3 For instance, Fairy tale!
Here you can find an adorable version of Puss in Boots x3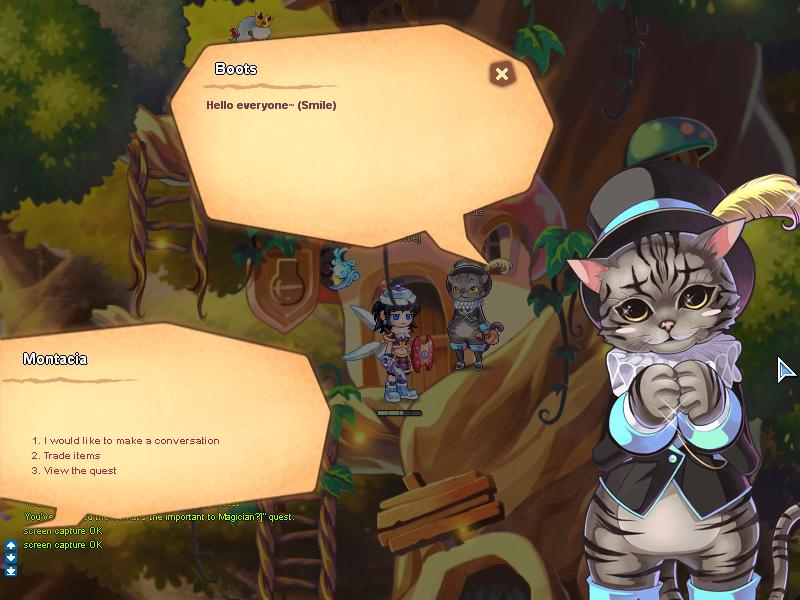 There were 3 other places but i was too low leveled and still kinda am so i dont have screenies soz > <
Then there was also Hell's door x3
Here's the awesome trailed >: D
https://www.youtube.com/watch?v=jZ1xBLXIX80
<- link to it lol o_o
After that there was the great and almighty Coliseum update!
In the Coliseum, you can get awesome new weapons that have AWESOME stats to make your game character even stronger x3 too bad I have no luck what-so-ever and just never happened to be able to get my guitar T_T
http://latale.ogplanet.com/intro/intro.html
<- this is the link to the LaTale website x3
LaTale is an awesome game, and I think that you guys should come play too!